Traditional Mold Remediation in Toms River, Woodbridge, Cherry Hill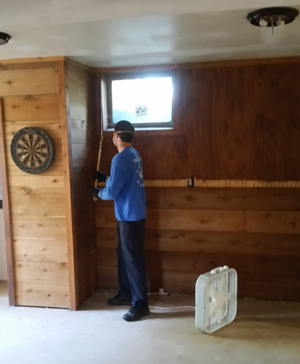 Mold growth can start in as little as 48 hours after water intrusion. Our technicians have the training to treat any mold damage scenario quickly & effectively.
Water or excess moisture often triggers a mold problem. Any enclosed area of a home, especially crawl spaces, basements, attics, and bathrooms, with either chronically high humidity levels or a water problem like a roof leak or groundwater infiltration has the potential for mold growth. You don't need major flooding to wind up with a mold problem. A slow leaking pipe is more than enough.
With our mold treatment process, we can often treat the mold directly and avoid removing the mold-affected building materials. However, if sheetrock or other material has lost its structural integrity because of water damage and is non-salvageable, we also offer traditional mold remediation. We always strive to remove as little building materials as necessary to keep repair and renovation costs to a minimum and always take extra precautions to help prevent mold from spreading during removal.
Following our initial inspection to determine the scope of the job, our mold specialists use a four-step process in those cases where mold remediation is necessary. We also identify and fix, if necessary, the underlying issues that caused the mold growth so that it does not return.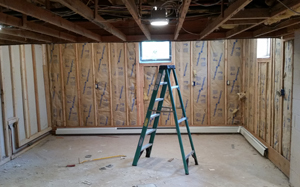 Traditional Mold Remediation: Our 4-Step Process
Mold Containment

Prior to removing mold-contaminated materials, we use various types of containment including physical barriers and negative air pressure. By quarantining the contaminated areas of the structure using mold containment, we help prevent mold from spreading.

Air Filtration

We filter the air using powerful "air scrubbers" and HEPA vacuums in order to further limit the movement of microscopic airborne mold spores during the remediation process.

Removing Mold-Infested Materials

Mold-contaminated materials with non-salvageable structural damage must be removed. Prior to removal, as an added safety measure, we apply our mold treatment products, MAPS MA-1 and MAPS MA-2 to kill and then mold growth on or around the materials. This is yet another precaution to ensure that mold does not inadvertently spread during the removal of the materials.

Repairs

For interested homeowners, our skilled contracting crew can perform a variety of minor repairs following mold removal. We understand the hassles of finding a reputable contractor, especially for smaller jobs. Our experienced crew can replace damaged drywall, flooring, and window moldings, as well as other smaller renovation projects.
If you have signs of a mold problem in your home, contact Mold Solutions by Cowleys today to schedule a mold inspection and mold remediation cost estimate! We are the trusted mold removal and remediation contractor serving Bridgewater, Princeton Junction, Middletown, Old Bridge, Piscataway, New Brunswick, Lakewood and nearby areas.
Looking for a price? Get a no cost, no obligation free estimate.