Dehumidifier Installation & Indoor Humidity Control in Toms River
Temperatures in basements, attics, and crawl spaces can spike to extremely high levels compared to the rest of the home, which increases the humidity levels in those enclosed areas. And all of that stagnant, sticky moisture in the air can trigger mold growth.
The dark, humid environment also provides an ideal habitat for a wide variety of pests, including cockroaches, termites, carpenter ants, rodents, wood-boring beetles, and some species of crickets. Another common problem faced by homeowners is condensation or "duct sweat," which happens when water droplets form on the cool duct surface from the surrounding hot, humid air. The only consistent, long-term way to ensure proper humidity levels in your home is by installing a commercial-grade whole-house dehumidifiers that are designed to work 24/7 in the challenging environment of basements and crawl spaces. Contact Mold Solutions by Cowleys for a free estimate in Woodbridge, Cherry Hill, & nearby New Jersey.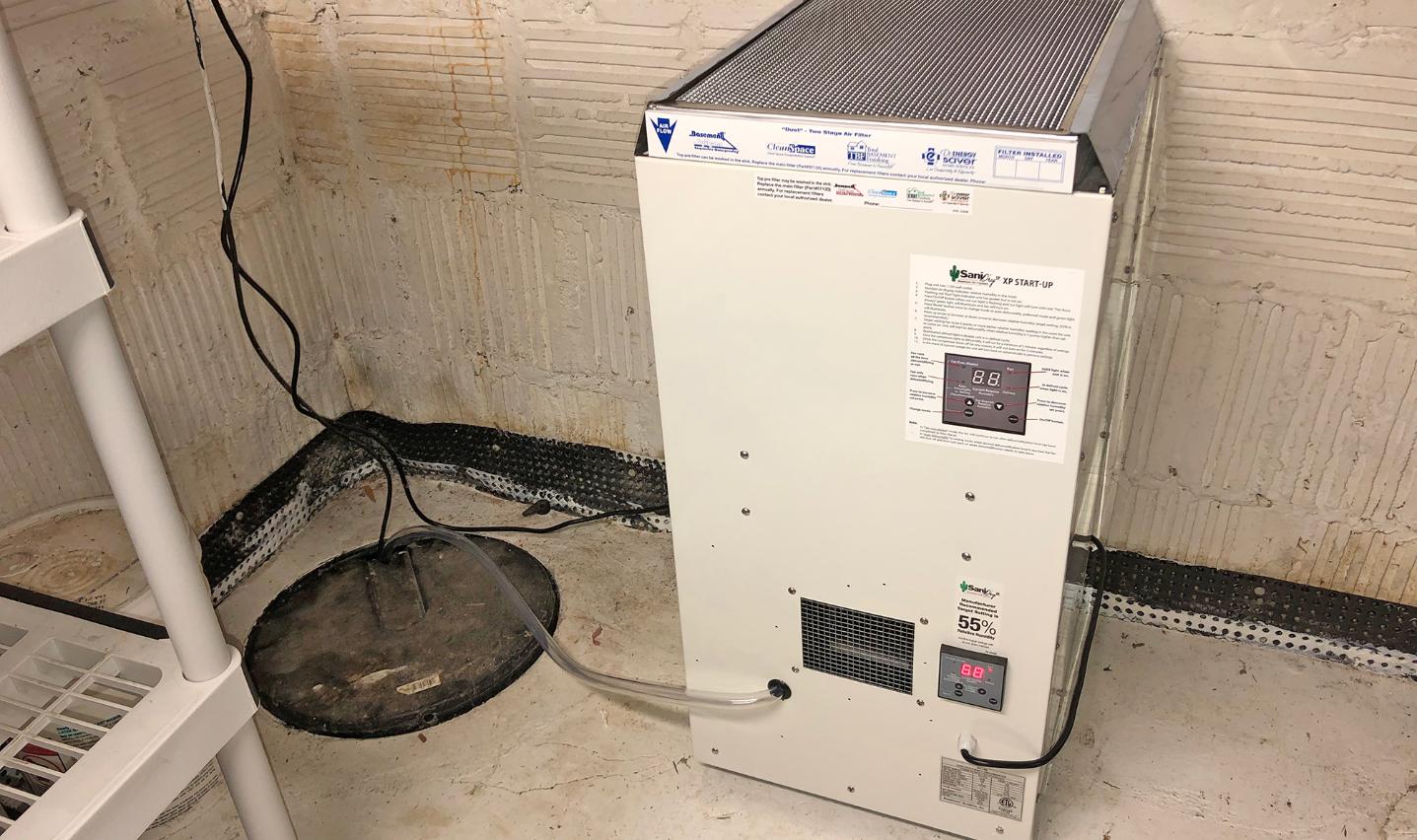 Our commercial grade dehumidifiers cover over 3000 square feet and are Energy Star rated.
Managing indoor relative humidity should be a top priority for any homeowner.
High humidity levels dramatically affect the comfort of your home and the proper functioning of your HVAC system and enhances the growth of allergenic dust mites and health-compromising bacteria. New Jersey has exceptionally humid summers and all of those non-living spaces of your home where mold growth often starts do not receive any of that cool, conditioned air.
Mold Solution by Cowleys offers the highest quality, professional grade "Energy Star Rated" dehumidifiers available today. Based on the size of your home and your particular indoor environment, we will recommend the dehumidifier best designed to meet your needs. We install and service the SaniDry™ Sedona and the SaniDry™ XP dehumidifier and air filtration systems. These dehumidifiers work automatically with a built-in hygrometer and empty into your sump pump or other drainage system. There is no water pan to worry about overflowing. These machines are truly an investment in your home and your family's health against mold and a host of other moisture-related problems. [comapny] has been keeping homes in Middletown, Old Bridge, Princeton Junction, Bridgewater, Lakewood, New Brunswick, Piscataway and Toms River dry since 1991. Contact us today!
When in doubt, Check it out!
It costs nothing for peace of mind.
We will come out and thoroughly investigate any areas in question. For free.
Get a FREE Quote!
Looking for a price? Get a no cost, no obligation free estimate.