Dehumidifier Installation & Indoor Humidity Control in Central NJ
Eliminate mold and moisture damage with our dry home solutions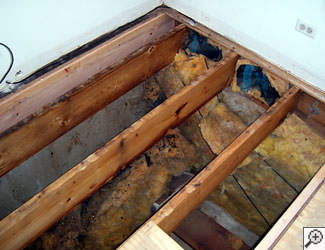 Tearing out water-damaged drywall and replacing it with new materials will lead to future mold problems if even a small amount of moisture remains trapped behind the new wall material.
Structural wood framing should contain no more than 14% moisture (12% or less is ideal). As a comparison, firewood is dry enough to burn when its moisture content is 20% or less.
While water can deal significant damage to a building, the worst of the damage is often not caused directly by the flooding itself.
Once the standing water has been removed, moisture will still exist in areas such as fiberglass insulation, drywall, carpeting, and within the structural wood.
If this moisture is not dried and removed completely, it will encourage mold growth behind the walls and in enclosed cavities (closets, wall voids, cabinets, crawl spaces) within the building.
Other Types Of Humidity Damage
In addition to mold growth, building humidity will also enhance the growth of allergenic dust mites and health-compromising bacteria.
The dark, humid environment also provides an ideal habitat for a wide variety of pests, including cockroaches, termites, carpenter ants, rodents, wood-boring beetles, and some species of cricket.
If mold is allowed to grow, it can lead to severe damages to property values. In one study of toxic mold, the average discount for affected property was a 59% decrease in value.
Control moisture in your home
Schedule a FREE Estimate
Call us for a mold remediation quote today! We serve Toms River, Woodbridge, Cherry Hill and many nearby areas, including Princeton Junction, Bridgewater, Old Bridge, Middletown, Lakewood, Piscataway, New Brunswick and other parts of New Jersey.
The Importance of Installing a Dehumidifier
High humidity contributes not only to discomfort at any temperature but it a major cause of moisture in an indoor environment. And that moisture can lead to mold. Dehumidifiers keep your relative humidity levels down, making spaces comfortable and maintaining an environment not conducive to mold growth.
Mold Solution by Cowleys offers the highest quality, professional grade "Energy Star Rated" dehumidifiers available today. Based on your particular indoor environment, we will choose and install the dehumidifier best designed to meet your needs. We install, service and use the SaniDry™ Sedona and the SaniDry™ XP dehumidifier and air filtration systems.
SaniDry™ Sedona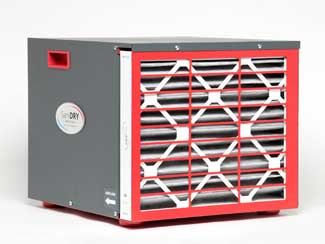 SaniDry™ XP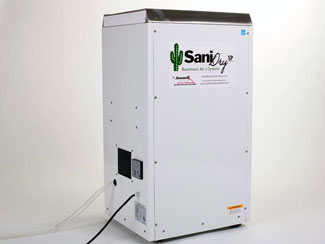 Moisture 101: How Moisture Works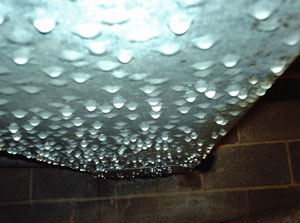 Venting bathrooms, dryers, and other moisture-generating sources to the outside will help reduce moisture and humidity.
Liquid water evaporates into vapor, which is invisible. The relative humidity (RH) of air, expressed as a percent, is a measure of how much water vapor is in the air as compared to the total vapor that could be in that air (what it could conceivably hold). As the temperature of air increases, the air's capacity to hold water increases as well. The temperature at which the RH is 100% is called the dew point.
The dew point is where the air can hold no more water vapor; it's the temperature at which moisture will condense from the air. So, if the temperature is at its dew point and more water vapor is introduced, vapor condenses – changes from vapor to liquid – on any surfaces cooler than the temperature.
An elevated RH of 70% or more at a surface can lead to problems with mold, corrosion, decay and other moisture-related deterioration. When RH reaches 100%, condensation can occur on surfaces leading to a whole host of additional problems. An elevated RH in carpets and within fabrics can lead to dust mite infestation and mildew (mold growing on fabrics). Mold grows on surface dust or wallpaper on cooler walls in rooms and closets when there is high RH and on bathroom walls and ceilings as a result of condensation. The EPA recommends reducing indoor humidity to 30-60% to decrease mold growth.
Humidity Control Services in New Jersey
Indoor Humidity Alert!
Some dehumidifiers on the market today attempt to keep your basement dry by blowing outside air into the home. This is a mistake!
100cfm of outside air, at a 70°F dewpoint, will bring in over 10 gallons of water every day. In your cool basement, this humidity condensates, providing ample moisture for mold growth.
Mold begins to grow almost immediately when there is sufficient temperature, moisture, and organic material present for mold to eat.
Additionally, long-term moisture in a building will lead to a variety of other serious problems, including warping wood, blistering paint, odors, and damaged electrical components of the home.
For a free written humidity control & drying quote in your area, call or e-mail us today! We provide services to structures of all types -- commercial, municipal, and residential -- throughout Woodbridge, Toms River, Cherry Hill, Bridgewater, Princeton Junction, Middletown, Old Bridge, Piscataway, New Brunswick, Lakewood, and nearby areas.
Looking for a price? Get a no cost, no obligation free estimate.