Toms River, Edison, Princeton Junction Local Experts for Mold Removal
Mold treatment or mold removal: which is right for your home?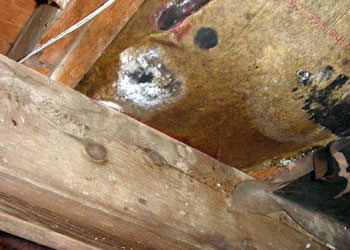 Who can you call to remove mold from the house in New Jersey? For effective mold removal, use certified, experienced professionals that can treat mold safely and completely, like Mold Solutions by Cowleys.
Finding the right mold removal option can be a challenge for New Jersey homeowners. A permanent solution is essential, but most homeowners would like to avoid a significant tear-out and reconstruction process.
Luckily, Mold Solutions by Cowleys is here to help. Our use of the unique, non-invasive Mold Abatement Polymer Solutions (MAPS) system provides a complete remediation of all mold issues while keeping as much of your walls, floors, and ceilings intact as possible.
If you're interested in learning more about how we can solve your mold problems in Central NJ, call us today or click below for a free estimate!
The difference between mold treatment and mold removal
Mold Removal
Invasive and expensive
Time-consuming reconstruction
Can lead to airborne mold spores
May not be permanent solution in affected area
Mold Treatment
Destroys mold on a cellular level
Prevents return of mold in treated area
Avoids major reconstruction project
Faster and more cost-efficient
Learn more about the mold solutions you need
Mold Prevention Science
Our complete guide to mold prevention and treatment will help you further understand the best options for your home. Click below to read more!
If you see or smell mold in your house, call us for a professional inspection immediately. Mold Solutions by Cowleys provides complete mold treatment and prevention services in New Jersey, including:
4 key points you should know about mold
Mold grows quickly: Mold needs only moisture, temperatures above 50 °F, and organic material to survive. Mold can grow in 24-48 hours, preferring areas with no sunlight, limited airflow, and little disruption.
Mold is not always visible: Mold can grow in concealed areas of your home such as: fiberglass insulation, on top of ceiling tiles, inside ducts, behind drywall panels, in wall cavities, and behind wallpaper.
Bleach & detergent will not eliminate mold: Bleach and detergent are limited to for removing mold on nonporous surfaces, and most building materials like wood and all wood products are porous.
Mold cleaning is hazardous: Mold isn't a do-it-yourself project. It requires knowledge and protective equipment. Some molds contain mycotoxins that are carcinogenic or deadly. It's easy to accidentally knock hundreds of thousands of spores loose from a single patch of mold!
People at high risk due to mold exposure
Individuals with asthma or allergies
Pregnant women
Infants & children
Elderly
Compromised immune systems
Other respiratory problems such as Cystic Fibrosis
Ensure your home is mold free with Mold Solutions by Cowleys
Knowing the best method of solving your home's mold problems can be difficult. At Mold Solutions by Cowleys, we will work with you to ensure that you completely understand our process and the ways that it will help keep your home clean and safe.
Don't take any chances with the mold in your home. Call us today to get a free estimate on our mold remediation services and learn how to make mold problems go away and be a thing of the past. We proudly serve in Edison, Princeton Junction, Toms River, Woodbridge, Princeton Junction, Union, Princeton, Piscataway, Far Hills, Freehold and throughout the surrounding areas.
Looking for a price? Get a no cost, no obligation free estimate.