Why is There Mold in Your Crawl Space?
Crawl spaces are prone to mold growth since there's often excessive moisture in these dark, underground spaces. And, because you most likely don't go into your crawl space often or at all, mold can go undetected for a long time. Vented crawl spaces are prime targets for mold growth because of their chronically high humidity levels, especially during the summer.
The air in your crawl space circulates through your home, so if there's mold in your crawl space, you are likely breathing unhealthy air. Particularly in homes with family members who have allergies, a below-grade space should be maintained no differently than the rest of your house. Even if intermittent, a musty smell in a crawl space is a sign of mold growth. Mold spreads by its microscopic spores traveling on air currents to reattach elsewhere.
40% of the air we breathe in our home comes from the crawl space.
Common Causes of Crawl Space Mold
Foundation leaks
Flooding
Moisture evaporating from dirt floor
Humid outdoor air coming in through the crawl space vents
Sump pump failure
Clogged gutters
Eliminating humidity and moisture in your crawl space.
Once the crawl space is treated for mold, it's important to keep the area clean and dry by sealing your crawl space with a heavy duty vinyl barrier along with installing a professional-grade dehumidifier. This is referred to as Crawl Space Encapsulation. There is a common misconception that increasing ventilation in a crawl space will reduce moisture problems. Rather, increasing the ventilation in a crawl space can actually worsen a mold problem by introducing more humid air and give insects and wildlife easier access to your home. Sealing the vents closed, encapsulating a crawl space from the moist outdoor air, installing a high quality sump pump, and using dehumidification to keep the area dry is the gold standard for preventing mold growth in crawl spaces. Here in Central NJ and in many other counties in New Jersey, the level of the water table is naturally high and it is recommended that a sump pump is installed for added protection.
Most crawl spaces have excess moisture: the optimum condition for mold growth.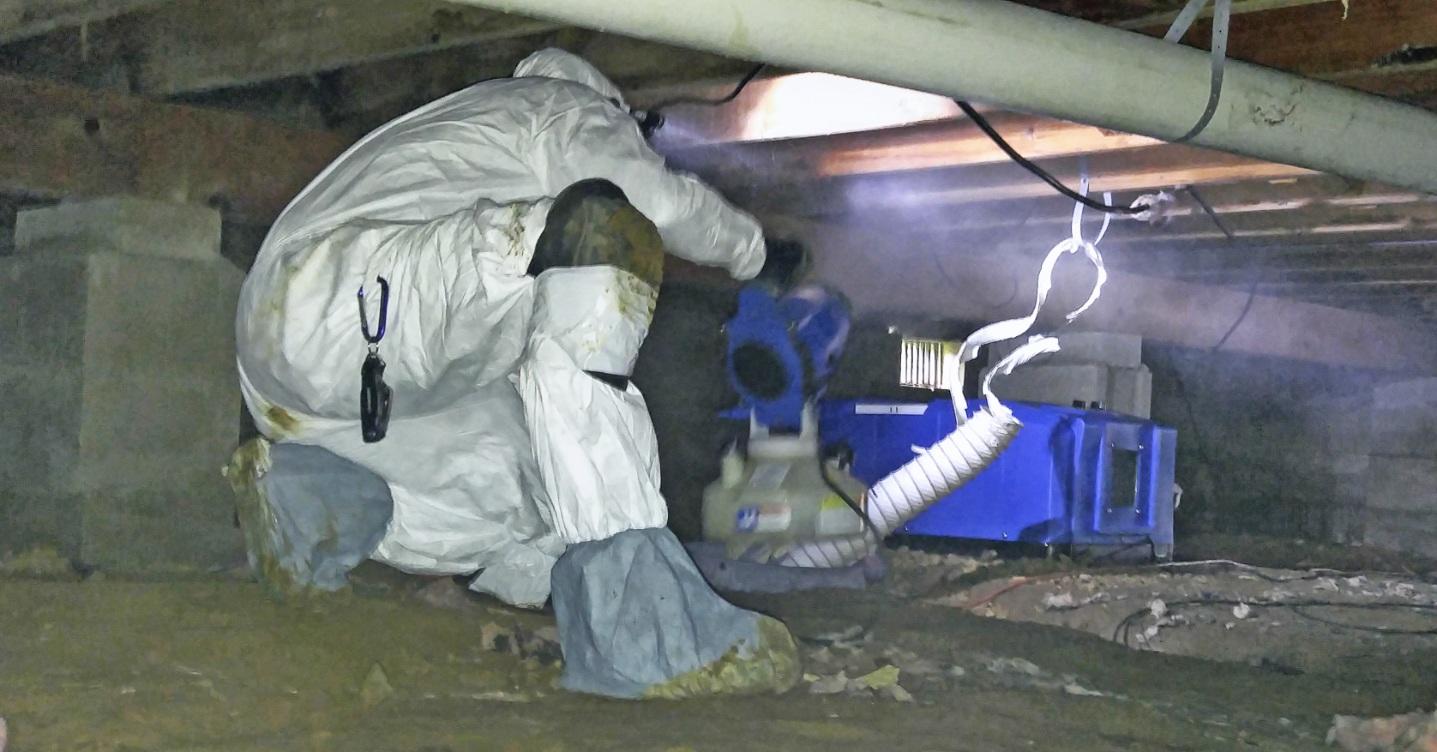 How to Keep Your Crawl Space Mold-Free
Mold Solutions by Cowleys can perform a water intrusion inspection of your crawl space to find the source of the water or moisture, treat the mold, and take the necessary steps to keep it from coming back.
Our patented Mold Polymer Patented Technology safely treats all basement mold, including toxic black mold. We have the training, equipment, and expertise to effectively remediate the mold in your crawl space.
Learn more about crawl space encapsulation and repair.
When in doubt, Check it out!
It costs nothing for peace of mind.
We will come out and thoroughly investigate any areas in question. For free.
Get a FREE Quote!
Looking for a price? Get a no cost, no obligation free estimate.