Crawl Space Mold Solutions in Central NJ
Treating & preventing mold in your crawl space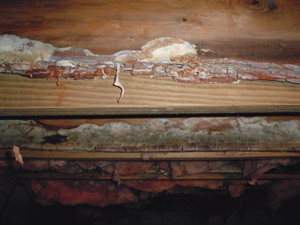 Do you have crawl space mold? The air in your crawl space circulates through your home, so if there's mold in your crawl space, you are likely breathing unhealthy air.
A below-grade space, such as a crawl space or basement, whether finished or unfinished, is a critical part of the house in terms of both air quality and the potential for moisture and mold growth. It is an integral part of your house -- even if you don't spend much time there.
If mold is present, it is important to treat the area quickly, as your home's air quality could be adversely affected. Even if intermittent, a musty smell in a crawl space is a sign of mold growth. Some molds produce microbial volatile organic compounds (MVOCs) that can diffuse through the flooring or infiltrate with spores through any openings around pipes or ducts passing from or through a crawl space into the rooms above.
Cowley's offers a variety of solutions for treating and preventing mold in the crawl space. Call us or click the button below to request your free crawl space inspection today!
How to get rid of crawl space mold
Once the crawl space is treated for mold, it's important to follow up with encapsulating the crawl space and installing a professional-grade dehumidifier to keep the area clean and dry. There is a common misconception that increasing ventilation in a crawl space will reduce moisture problems. Rather, increasing the ventilation in a crawl space can give insects and wildlife easier access to your home, and actually worsen a mold problem by introducing more humid air. Sealing a crawl space from the exterior and using dehumidification to keep the area dry is the gold standard for preventing mold growth in crawl spaces. Here in Central NJ and in many other counties in New Jersey, the level of the water table is naturally high and it is recommended that a sump pump is installed for added protection.
Laundry areas can also cause water and mold problems in crawl spaces beneath if there is improper drainage of the washing machine or the dryer is venting hot, moist air into the crawl space. Mold will flourish on accumulated lint. Sometimes the mold is digested and excreted by mold-eating insects and a wall that looks covered with mold may actually be insect fecal pellets containing mold spores. Those with sensitivities are exposed to the double whammy of both mold and mite allergens.
Why fix your moldy crawl space?
Close to half of the air in your bedroom or living room can come from the crawl space beneath. If your home has hot-air heat or central air conditioning, most of the air in the habitable rooms can come from the lower level if there is basement return or a disconnected return duct in the crawl space. Particularly in homes with allergic family members, a below-grade space should be maintained no differently than the rest of your house. Crawl spaces are a "hot spot" for mold and if there is a mold problem in your house, don't be surprised if your below-grade spaces are the source of the problem.
Here at Mold Solutions by Cowleys, we provide mold treatment solutions for any mold problem you might be experiencing in your home.
The right solution starts with a crawl space inspection
A host of moisture, insect, and nuisance wildlife problems can be avoided by encapsulating a crawl space. A complete encapsulation system seals a crawl space off from the moisture coming from the dirt and from the damp air outside and should be considered by any homeowner as a permanent solution if there is mold in the crawl space. We can inspect your crawl space, find the source of your mold problems, and determine the best solution to keep the mold from coming back.
Visit our pest control website to learn more about our crawl space encapsulation services in Toms River, Woodbridge, Cherry Hill and surrounding areas of the state.
Looking for a price? Get a no cost, no obligation free estimate.