Our Patented Mold Removal Technology
MAPS - The Guaranteed Solution to Mold
When exposed to water, mold can quickly form. Airborne mold spores relocate and reattach elsewhere, growing into ever-expanding colonies. Indoor mold can soon cause extensive property damage and breathing in mold particles can have serious health consequences.
But how do you get rid of mold?
Mold Solutions by Cowleys offers property owners the Mold Abatement Polymer Solutions (MAPS) bioremediation system. This specially designed two-component antimicrobial and polymer sealant system can resolve even the most challenging mold problem. Best of all, it is fast and efficient. In most cases, you can return within the same day to a healthy home or place of business with improved indoor air quality.
With help from Mold Solutions by Cowleys, the mold problem will be gone permanently as well as all of the worry. We guarantee that the areas treated for mold in your home or business will remain free of mold for the covered period with a one-year warranty. With the installation of one of our commercial-grade dehumidifiers and our yearly service contract, our warranty is extendable to 5 years.
The MAPS Two-Component System
Our two key components to treat mold are MAPS MA-1, an antimicrobial, and MAPS MA-2, a patented polymer sealant. Both are applied using a commercial ULV fogger where it is distributed on surfaces as tiny 30-micron particles, thinner than a strand of hair. We are able to thoroughly treat any exposed surface including hard-to-reach corners, behind items, and inside the smallest cracks and crevices. Mold spores are killed instantly on contact, and it is effective on both porous and non-porous surfaces. The products clean and deodorize treated areas, removing that musty mold smell.
MAPS MA-1 is an EPA registered, multi-purpose, antimicrobial specifically selected for its compatibility with MAPS MA-2.
MAPS MA-2 is a unique, proprietary Static Migratory Adjuvant demonstrating Rheological Transformations (S.M.A.R.T.) polymer containing a synergistic balance of time-released antimicrobial ingredients.
Mold cannot grow on any treated surface (such as a wall, floor, or ceiling) after the polymer is applied. The treatment remains active to fight mold 24/7 for years.
The MAPS process is a unique system in mold treatment because of the patented SMART polymer (MA-2). The science and biochemistry behind it is complicated, but what matters to homeowners is its impressive results. Our process offers a proven safe and efficient method to treat mold and prevent its return that's superior to anything else on the market. The MAPS system is limited to those companies licensed to apply EPA-registered fungicides that are part of the MAPS network of trained mold removal specialists.
Benefits of MAPS - Our Mold Treatment System:
Saves money by often avoiding tear-outs of walls and removal of other building materials.
Major renovation and reconstruction is typically avoided.
Most properties are fully treated within the same day (depending on the scope of damage) so that occupants can re-enter the structure. There is no need to temporarily relocate.
Minimal business interruption or loss of production (in most cases).
Non-toxic, non-bleach, non-carcinogenic environmentally friendly products.
By treating mold directly right where it is growing, the likelihood of mold spores reattaching elsewhere and mold returning is substantially reduced.
One-year Mold Treatment and Prevention Warranty that can be extended up to five (5) full years of coverage with dehumidifier installation.
Bio-Remediation: Treating and Preventing Mold using the MAPS 4-step Process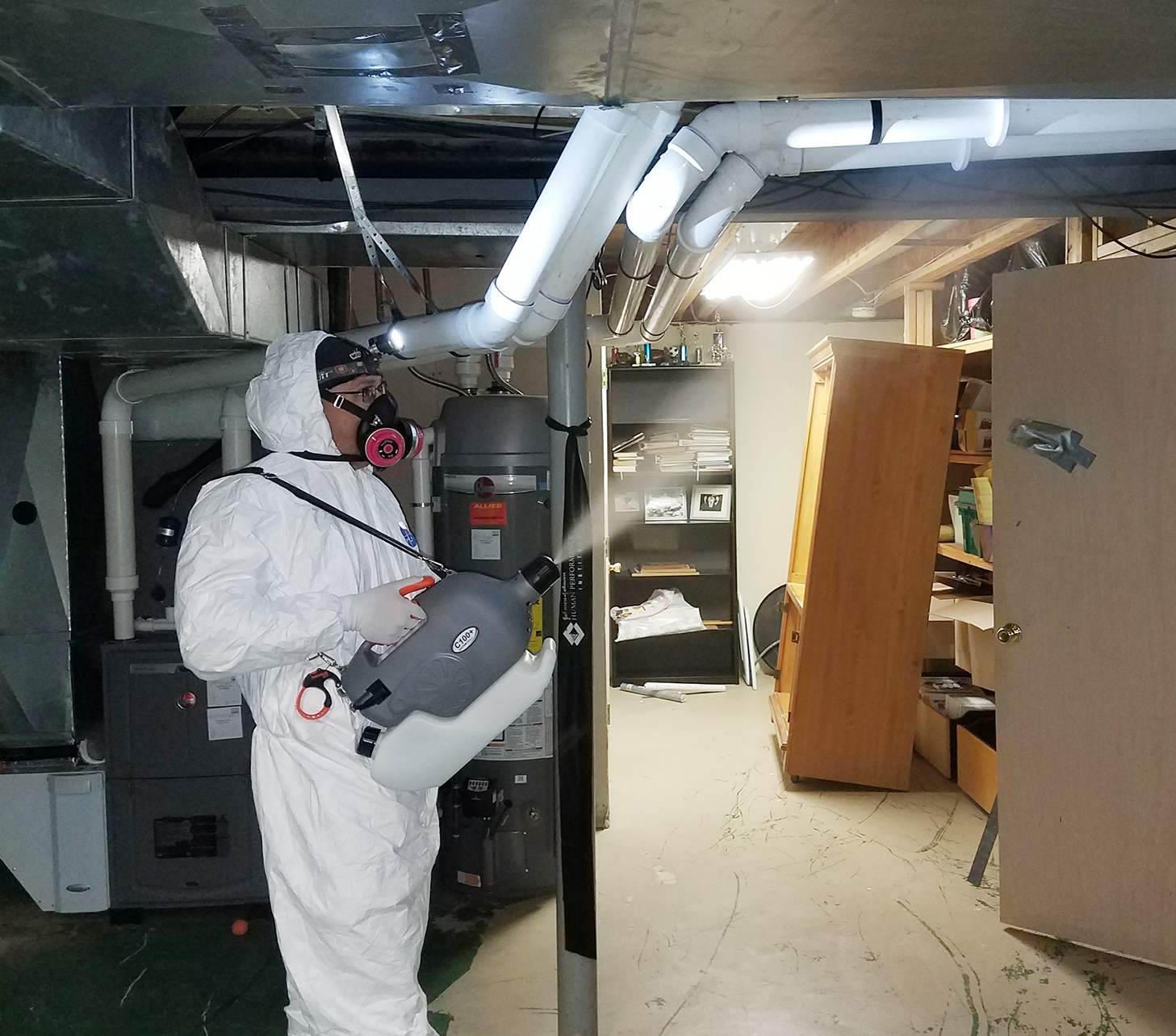 Water Intrusion Inspection (WII): Before starting treatment, we conduct a thorough inspection of your home or business to locate and confirm all indoor mold growth and determine the water and moisture sources that caused it.
Application of MAPS MA-1 Antimicrobial: Using a fogger to optimize its distribution, we apply an EPA-approved antimicrobial that kills mold on contact. This product is non-corrosive, dries clear on windows, sterilizes surfaces, and replaces the musty odor of mold with a fresh clean smell.
Application of MAPS MA-2 SMART Polymer: We once again use a fogger to apply the second treatment. MAPS MA-2 is our unique, proprietary polymer that destroys the cellular DNA of mold allergens, rendering them harmless. The polymer seals treated surfaces and reactivates with moisture to prevent future mold formation. The product is also non-corrosive and dries clear on windows. It's protective capabilities create a healthier indoor environment.
Dehumidification: We complete our treatment process by installing a commercial-grade whole-house dehumidifier appropriate for the size of your home. These dehumidifiers automatically monitor and control indoor humidity, preventing the reccurrence of mold.
Contact Mold Solutions by Cowleys today to learn more about how MAPS can help with your mold problem. When you schedule an on-site mold inspection in Toms River, Woodbridge, Cherry Hill or the surrounding area, we'll provide you with a free cost estimate for mold removal service.
Looking for a price? Get a no cost, no obligation free estimate.