Protect Your Athletes With our State-of-the-Art Patented Polymer Solution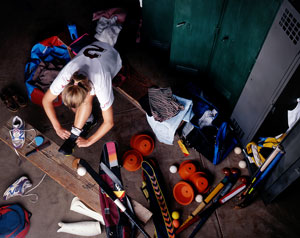 Bacteria is a growing concern in all athletic environments. The health risks that bacteria create are severe and steps should be taken to prevent their development.
Fortunately, there is a solution. Imagine a protective blanket that stops bacteria, viruses, and fungi in its tracks.
What is Staphylococcus aureus ("Staph")?
Staphylococcus aureus has long been a major human pathogen. It is a type of bacteria commonly found on the skin and in the nose in up to one-third of healthy people. In most cases, Staph lives in these areas of the body and do not cause infections.
The bacteria can be transmitted from carriers or from bacteria left on objects such as wrestling mats and artificial turf for example. People commonly develop staph infections when their skin is broken and the bacteria finds its way into wounds, cuts, and scrapes. When contracted, Staph is highly contagious and it cannot be cured without antibiotics.
What is an MRSA infection?
Initially, penicillin was an effective treatment for Staph, but penicillin-resistant strains rapidly developed. This drove the search for new antibiotics such as methicillin. Methicillin-resistant strains of staph then developed in this seemingly unending antibiotic-resistant race, leaving vancomycin as the last line of defense against this tenacious "superbug" microbe. We call this bacterium MRSA ("Methicillin-Resistant Staphylococcus Aureus") and it is the leading cause of life-threatening bloodstream infections (sepsis) and pneumonia.
MRSA Means Business
The economic and personal costs of this bug are substantial. People with an MRSA infection are more likely to:
Be hospitalized.
Have longer hospital stays.
Have an increased risk of dying from the infection.
In fact, according to WebMD, invasive MRSA kills more people in this country than AIDS. In 2005, the Centers for Disease Control (CDC) reported that MRSA was responsible for 94,000 life-threatening infections and 18,650 deaths, more than the 16,000 AIDS deaths. Although most invasive MRSA infections are hospital-related, 15% of invasive infections occur outside of a hospital setting – and many of those are related to athletic facilities.
What is Community-Associated MRSA?
MRSA was once considered primarily a hospital- and nursing home- related problem, but no longer. A new type of MRSA has been identified that is spreading out in the community among healthy people (CA-MRSA). And MRSA has found its way into the athletic world with a vengeance, by way of gym mats and materials.
So, the healthiest specimens of the human form have been affected by this potentially lethal bacterium just as much as the frail and sickly who are hospitalized. These bacterial infections potentially inhibit the ability of athletes to compete and perform at their best — and, in the worst case scenario, sideline them for good.
Can MRSA Remain Viable in Synthetic Field Turf?
A number of highly publicized MRSA studies implicate artificial grass as a risk factor. The investigation of an outbreak of MRSA on a college football team found that there was a seven-fold increase in the risk of infection for players who had received abrasions playing on artificial turf (Beiger 2004).
While a synthetic turf may seem sterile compared to natural grass, MRSA is viable on polypropylene fibers for more than 90 days in a hospital setting (Neely and Maley 2000).
A more direct study by Andrew McNitt examined microbial populations in synthetic turf sand and rubber infill and found prolific bacterial populations living in the fill.
Protect your athletes by keeping the turf surfaces protected. The coaches and those in management have the peace of mind that the right protocols are in place to protect player safety. Athletes give their blood, sweat, and tears out on the field. It is important to do everything reasonable to protect their safety.
Infection Control in Athletic Programs
Just as in sports, the best defense against MRSA is a good offense. And that means prevention. By taking proactive steps and working as a team, coaches and managers of athletic facilities can significantly reduce athletes becoming MRSA-infected. The component where the facility has the most control is making the environment hostile to the organisms.
Choose the Right Product to Protect your Gym!
We help gym owners and school locker rooms protect their athletes from Staph and other bacteria in Toms River, Woodbridge, Cherry Hill and Bridgewater, Princeton Junction, Middletown, Old Bridge, Piscataway, New Brunswick, Lakewood in New Jersey. Get a free cost estimate today!
Looking for a price? Get a no cost, no obligation free estimate.